click the information icon below for image info, availability and pricing may not be current
Bryan Memorial Gallery and Bennington Museum (Bennington, Vermont) have collaborated on this exhibition, Parks and Recreation. Held jointly at these two locations during the 2022 season, this exhibit will highlight historical and contemporary interpretations of Vermont's 55 state parks and explore the diverse beauty of these protected wildscapes in all seasons. Contemporary works of art depicting Vermont Parks will be on display in the Bryan Galleries Main and Middle galleries.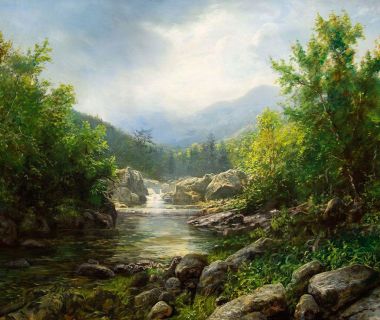 The 2022 edition of the Legacy Gallery, which showcases the art of some of the galleries top-sellers in 2021, features works by Tom Adkins, Jacob Aguiar, Robert Aiken, Mark Boedges, Laden Bryan, Mary Bryan, Amy Hook-Therrien, Charlie Hunter, Erik Koeppel, Susan Larkin, Barbara Lussier, Leo Mancini-Hresko, T.M. Nicholas, John Clarke Olson, Rosalie Sidoti, Daryl Storrs, Eric Tobin and Liane Whittum. This show, which is shown all year, starts in the front two galleries and moves to the East Gallery May 4th.